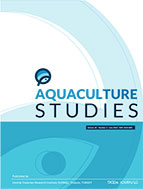 Aims & Scope
"Aquaculture Studies" is the successor to the "Yunus Research Bulletin (Yunus Araştırma Bülteni). On the basis of the experience and strengths of its predecessor, Aquaculture Studies has been developed to create a truly international forum for the communication of research in aquaculture science.
Aquaculture Studies is a refereed academic journal has been published biannually (June & November), free of charge and open accessed by Central Fisheries Research Institute. It aims to address research and needs of all working and studying within the many varied areas of aquaculture.
The Journal publishes English language original research papers, critical review articles, short communications and technical notes on applied and scientific research relevant to freshwater, brackish and marine environments.